TARTINE EARTH AND SEA
Une création d'Alexis Pélissou (ancien chef du Gindreau)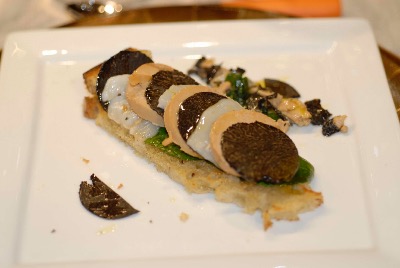 Ingredients for 4 persons
_ 1 croustilot (country bread)
_ 40 gr of truffles
_120 gr of foie gras
_ 4 fresh scallops
_20 gr of spinach
_1dl olive olive
_2dl of peanut oil for truffle oil
_Coriander (fresh and in seeds)
_Juice of a half lemon Photo of JPB
_ 1 clove of garlic
Prodution
Clean the scallops, and keep only the white part
Keep them in the refrigerator
Clean and peel the truffles.
With the peels, make the truffled oil:
Lightly brown the truffle skins and add 2 dl of peanut oil. Infuse, pass the stamen and reserve
< Tartine
Détailler le pain en tranche de 5 mm d'épaisseur, puis tailler les rectangles de pain de 2 cm par 10cm. Les badigeonner d'huile truffée, le toaster et passer légérement un grain d'ail sur une surface. Assaisonner les jeunes pousses d'épinard d'huile d'olive, de sel et de poivre et les déposer sur le pain.
Trancher les noix de Saint-Jacques, les assaisonner de jus de citron et d'huile d'olive.
Trancher saler et poivrer le foie gras. Assaisonner de sel, poivre et huile de truffe, les tranches fines de truffes.
Dressage
Arrange alternating Saint-Jaques, foie gras and truffles on bread slices.
Place on a plate with the seasoning supplement.
Decorate with coriander and some spinach sprouts.
Discover the recipes of Alexis on the book: The truffle on the soufflé, published by Féret