Scallop carpaccio and black truffle butter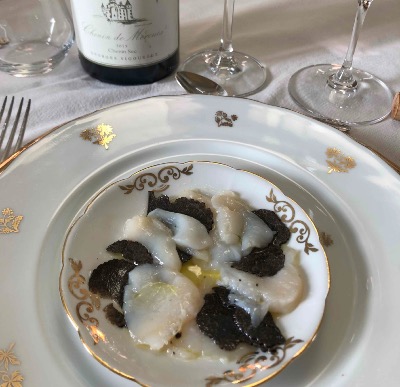 Ingredients for 4 persons
_1 fresh scallop per person
_1 fresh truffle of about 40 gr
_2 tablespoons of olive oil
_1 teaspoon of Guérande coarse salt
_Black pepper from the mill
Preparation
Ask your fishmonger if it is possible for the shells ready to cook, and cleand of their coral. Wash the scallop nuts under cold water and dry them in paper towels.
Cut them into thin slices. Book.
Peel the truffle and cut it into very thin slices.
The falls can be cut into small sticks.
Arrange the rounds of scallops and truffles on two different plates. Using a kitchen brush, brush with olive oil each side of the St-Jacques nut rings and truffles.
Presentation :
Arrange on each plate a circle of rounds, overlapping them; and alternating between scallop and truffle washer. Sprinkle with a pinch of Guérande salt each slice of truffle, and a few small sticks from the of truffle each slice of walnuts. Place the plates in the refrigerator for 30 minutes before serving.
Ideas, tips & tricks
For garnish, a small salad of lettuce for decoration. This carpaccio can also be served as an appetizer.This recipe is to be made exclusively with ultra-fresh scallops just out of the shells.
Frozen scallops are to be banned.