RISOTTO GREEN ASPARAGUS AND BLACK TRUFFLE DESYDRATEES OR WHITE SUMMER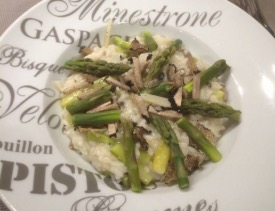 Ingredients
_100 g half-salted butter
_1 bunch of green Asparagus
_300g of rizotto rice
_50 g of butter + 1 knob of butter
_1 onion or 2 shallots
_15 cl white wine
_1 chicken broth
_100 g of Parmesan cheese
_5g dehydrated truffles to swell in lukewarm water (3 or 4 h) that will be kept for the broth.
Or 40 to 50gr of white summer truffles sliced ​​in thick enough to incorporate at the end of cooking
(5 minutes before)


Preparation of RISOTTO
Peel the asparagus, cut into sections of 6 to 7cm and put the heads aside.
Steam sections and incorporate the heads, a few minutes before the end of cooking, keep them "Al Dente"
and book them warm.
To trade the rice:
Melt the butter and sweat the shallots or finely chopped onions.
Add the rice (not rinsed), stir and heat, add the white wine; leave a few minutes.
Stir in the hot broth several times each time it is absorbed. The rice should be creamy.
Add asparagus and slices of dehydrated truffles or slices (white summer truffles), then grated
parmesan cheese and butter. Serve hot on a plate and decorate with the asparagus tips.