RISOTTO GREEN ASPARAGUS AND BLACK TRUFFLE DESYDRATEES OR WHITE SUMMER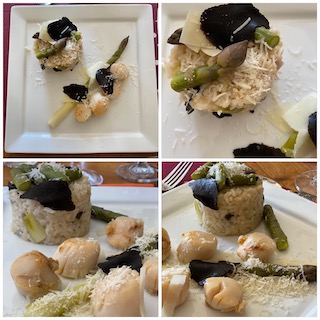 Ingredients for 4 people
1 bunch of green asparagus
300g rice for rizotto
70 g butter + 1 knob of butter
1 onion or 2 shallots
15 cl white wine
1 chicken stock
2 tablespoons fresh cream
100 g parmesan cheese
8 g of freeze-dried truffles, half of which should be infused in a little warm water and two tablespoons of fresh cream (3 or 4 hours), to be kept for the stock at the end of cooking.
20 scallops


Preparation of the RISOTTO
Peel the asparagus, cut it into 6 to 7 cm sections and put the heads aside. Steam the asparagus and add the heads a few minutes before the end of the cooking time. Keep them "Al Dente" and keep them warm.
Make the rizotto:
Melt the butter and sweat the finely chopped shallots or onions.
Add the rice (not rinsed), raise the heat and add the white wine; leave for a few minutes.
Add the hot stock in several stages, adding it each time it is absorbed, and finish with the truffle-infused water and the truffle cream.
The rice should be creamy. Add the asparagus, the slices of freeze-dried truffles, the grated parmesan and the knob of butter.
Fry the scallops (noix de St-Jacques) and serve hot on a plate and decorate with the asparagus tips and a few slices of truffle.